A reminder about this week's 41 Club Connects Zoom Meeting, and the weeks ahead…
But first the National Secretary would like to remind you to complete his small questionnaire regarding the virtual AGM. You can find the questionnaire at:
https://41clubconnects.co.uk/41-club-virtual-agm-2021-feedback/
He asks that you please complete it by 1st June
At 8pm this evening (please note new start time of 8pm), Thursday 20th May, we will be meeting with Craig Mathieson, the founder of The Polar Academy. The Polar Academy is the brainchild of, and is run and managed by, Craig Mathieson. Craig is an accomplished and respected explorer, having led the first dedicated Scottish expedition to the South Pole, taken a 16 year old youth to the North Pole and led many other expeditions to the Arctic. In 2013 he was awarded the title of "Explorer in Residence", by the Royal Scottish Geographical Society. Together with his team of professionals from the SportsScotland Glenmore Lodge, the National Outdoor Training Centre, they make up the training and expedition team.
The Polar Academy identifies 'invisible' 14-17 years old secondary school children, crushed by a lack of self-esteem and gives them the chance to redefine their physical and mental limits. Participants are put through a rigorous ten-month training programme before being immersed in the wilds of Greenland, navigating through some of the world's remotest terrain for ten days. Their confidence soars with every step.
On their return to Scotland, each pupil shares their experiences with their peer groups, speaking to more than 20,000 school children in their region. They are living, breathing proof that dreams are attainable and that ordinary pupils can achieve the truly extraordinary.
They unlock the vast potential within young adults and turn them into positive role models for their community and families. Each year The Polar Academy will inspire and motivate thousands of young adults, positively demonstrating that by 'inspiration through exploration' anybody can achieve their absolute potential.
The Zoom Log-In Details are: https://zoom.us/j/96070108446
Next Week….our guest speaker will be fellow 41-er Andrew Johnson of Calpe 41 Club, on the Costa Blanca, who will be speaking to us about the use of English Words – "Divided by a Common Language" is the theme of his humorous talk which is strongly recommended!
Dementia Action Week
It would be remiss of me not to draw your attention to another email going out today drawing your attention to the fact that this week is Dementia Action Week, because Dementia UK is National President Peter Good's National Charity, which we hope every reader is able to support. Here in Peter's own words is why Dementia UK is so important to him:-
I left home at 15, and went to work 180 miles away from home. I then went to college and then worked abroad. I came home at just over 20 with no friends, so at tea one night my mother said you should join Round Table – the best advice any mother could give.
Sadly in her late seventies my mother developed dementia. Regretfully her friends didn't want to be bothered with her. I have two brothers but one lives in Abu Dhabi and the other had no time for her, so all the care fell onto me and Lesley. My mother lived out in the country and was very isolated, but one neighbour, a younger person, was brilliant with her. Things got harder for us and it was a lot of worries. She fell and broke her neck but by some miracle she managed to get to the phone and call me. The hospital said she couldn't go home – rather she must go in to a home with dementia care. She was only in there two weeks before she passed away, but at least she had two happy weeks there. That's why I chose Dementia UK and their Admiral Nurses because it is a difficult illness for families to deal with because the afflicted person is not the person you knew.
To see more about Dementia Action Week see the special email.
The 41 Club Whisky Appreciation Group ("41 Club WAGs")
The 41 Club WAGs have another whisky tasting coming up on Friday 28th May. Find out more about ot on Facebook, or if you don't do Facebook go to www.41clubconnects.co.uk and follow the links to the WAG pages.
The 41 Club – Wine Club
The 41 Club – Wine Club has its White Wine Tasting coming up on Saturday 12thJune. You can find out more via the Facebook group or just contact Kevin Chard at region21@41club.org for more info or to book in.
Keep safe.
YiCF,
Don Mullane, National Comms & IT Officer, The Association of Ex-Round Tablers' Clubs (41 Club)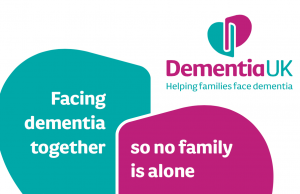 National President Peter Good Charity 2020-2022 – Dementia UK Peter has set up a unique and efficient fund raising page and is asking clubs to support him in these efforts.Dementia UK Fundraising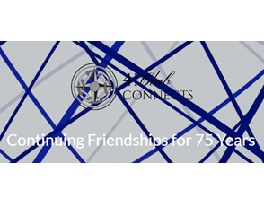 41 Club Connects – Visit www.41clubconnects.co.uk View all the videos of our recent talks & events. Also, find out how to join future Connects events.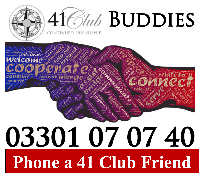 03301 07 07 40 Buddyline Phone a 41 Club Friend Is there for you from10am – 10pm, 7 Days a Week If you are lonely or just need to talk, call us


This mailing has been generated from The Association of Ex-Round Tablers' Clubs (41 Club). The content and any attachments hereto are strictly confidential and intended solely for the addressee. It may contain information which is covered by legal, professional or other privilege. If you are not the intended addressee, you must not disclose, forward, copy or take any action in reliance of this email or attachments. If you have received it in error, please contact Marchesi House. Tel: +44 (0)121 456 0303 © 2019-2021 The Association of Ex-Round Tablers' Clubs (41 Club).